Alumni Reception with Special Guests, New York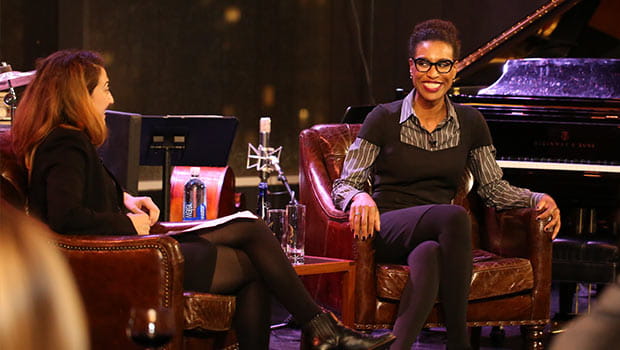 This year's City University London Alumni Reception, New York was held at the famous Dizzy's Club Coca-Cola on Tuesday 3 March.
Dizzy's Club Coca-Cola is one of the three main performance venues in Jazz at Lincoln Center's home, Frederick P. Rose Hall. It has spectacular views of Central Park but is also an intimate venue which provided the perfect backdrop for guests to hear Mandana Mofidi (MA International Journalism 2010), Producer of the VICE series on HBO interviews Nicole Young (MA International Journalism 2003), award winning senior producer for CBS News and the legendary 60 Minutes programme.
The interview covered a broad range of topics reflecting the breadth of Nicole's journalism experience. Particular reflections included the challenge of producing news stories in a relevant, reliable way in a world of 24 hour-news and the difficulty of reporting the plight of refugees in the Middle East.
After the interview, guests were treated to old-school jazz, blues, and gospel from the Cyrus Chestnut Trio.
To see photos from the event, please visit us on Facebook or Flickr.